Rainbow Art Party!
Welcome to our rainbow art party! Full of color and fun for your little artist!
An art party is a great idea for both girls and boys and is easy to organize. It is is also a theme that works well for coed parties and for various personalities (shy and outgoing). Today I will share several ideas from our art party that I hope you can use at your little one's celebration.
I love a great entrance way! It says, "Welcome to the party!", "It's going to be so much fun!!" So we made this fun entrance way with dripping paint cans hanging from the doorway and rainbow banner to walk through!
I also love this colorful tablecloth. I used rolls of crepe paper in rainbow colors to create this rainbow effect, and attached the layers to a white tablecloth as the bottom layer. It turned out festive and easy to make.
We made crayon art for the backdrop of the food table! It was fun to make and such a colorful backdrop. Have you ever done crayon melt art with your kids?! Give it a try! It's fun, albeit a bit messy.
Photo booths are always the first step to welcoming our guests. Then after the party we send a printed copy of a photo with the birthday girl/boy, with a thank you written on the back to everyone who attended.
Aren't these gigantic pencils fun? They are easy to make too! Just roll poster board and then add the tip with white paper and a label to tell what color it is. Easy and so adorable for photo props or decoration too!
Another easy prop for a photo booth is just using an old photo frame. It creates an adorable photo and takes little prep work to make.
Here are a few fun activities from our art party!
Art Gallery
Give your kiddos canvas paper or a canvas to paint their masterpiece of art. I provided homemade puffy paint, paint, buttons, pom poms, stickers, and crayons, marking pens and colored pencils for the kids to create their work of art.
They had so much fun creating their masterpiece! When they were done we hung all of their art work to dry and to put on display. At the end of the party I gave prize ribbons to everyone for their art work. Everyone got a prize: Most colorful, Most creative, Best overall design, etc!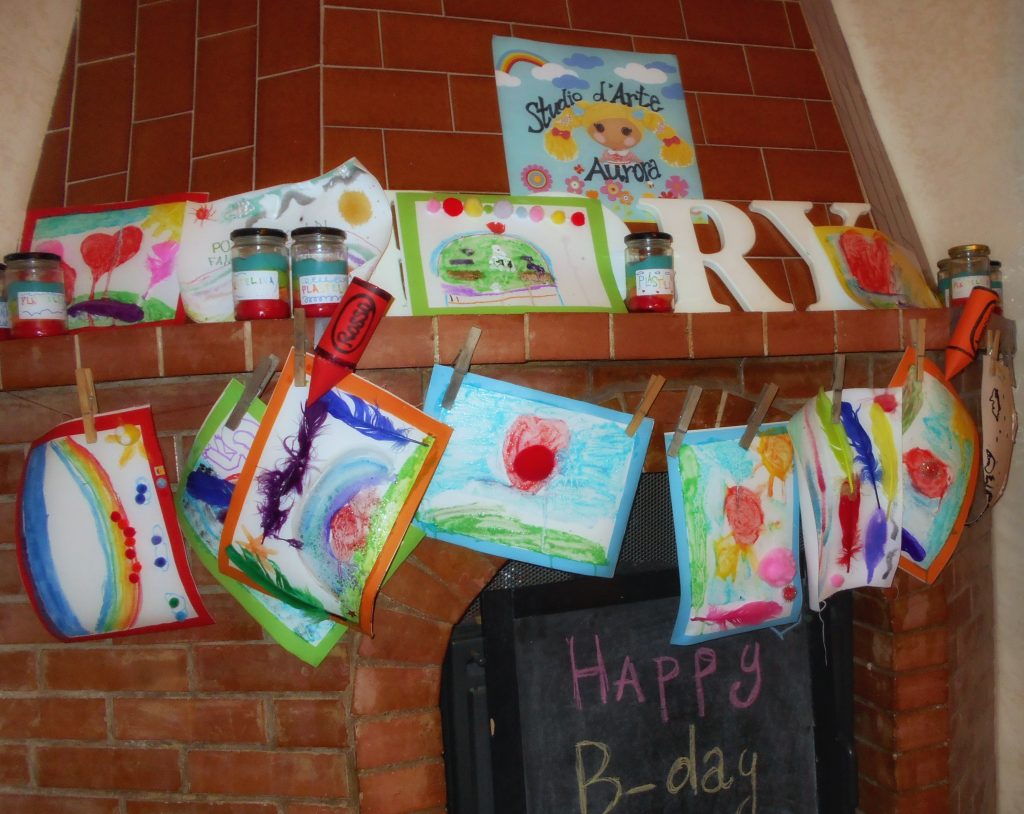 Edible Art Work
Next they could create an edible painting on these adorable cookies. I bought a set of edible markers and covered cookies with fondant. Then each kiddo could paint a picture on their cookie and display it until we ate dinner! They turned out so cute!
This was a favorite activity by far!
Pasta Necklaces
We made rainbow colored pasta before the party and then during the party the kiddos could make their own necklaces with the brightly colored pasta "beads".
I love this tablecloth too! I let my kids create a masterpiece of art out of white tablecloths before the party! They painted and colored them. They turned out bright and fun and perfect for the kids to create all their art work on during the party.
Pictionary
This activity is so easy to organize but the kids had a blast playing it. We just used a giant chalkboard and had a bin full of words. The child who guessed the picture correctly first got to go next, although we made sure that everyone had a turn.
They were so competitive and hilarious. It was great fun!!
For party favors we sent home homemade playdoh, colors, their art work and necklaces, candy "pencils", and rainbow lollipops.
These are a few of the ideas from our art party! I hope one of them will be fun for you to try out at your celebration!
These (see below images) are a few of the fun printables from the party! Cupcake toppers. A Second version of the party invitation (I sent this one to the kids and included a paint brush attached to their pant palette. And rainbow water bottle labels!
I hope your party is colorful and fun! Happy art party!