An Extra Sweet Birthday
Making Gingerbread Houses for our December Baby!
Covid is kind of a bummer. In fact, we've had to skip a couple birthdays, and Thanksgiving this year and Christmas will be limited too. I am looking forward to this particular season being over. And yet, there are still so many ways to make each day special and to make the birthday girl (or boy) feel loved.
This year we surprised our birthday girl with a Gingerbread Party just with our little fam and her Aunt and Uncle.
We made gingerbread houses, ate dinner, played games and ate cupcakes to celebrate the birthday girl.
I wanted to give you a few tips we have learned over the years for how to make your own gingerbread house with success. . .especially if you are making them with children!
Supplies:
Gingerbread house kit (our is from Flying Tiger)
Royal Icing (for the "glue")
White buttercream frosting (for decoration)
Powdered sugar or dried shredded coconut (for snow)
Candies for decorating: M&Ms, Skittles, sprinkles, chocolate chips, chocolate chunks, gumdrops, gummy candies, marshmallows, etc, etc.
Pretzel sticks (for propping things up and for decoration)
Melted chocolate: for "glue" to attach candies, and for decoration
A cutting board, tray or flat surface to build your house onto and to display it on when you are done
Knives
Spoons
Frosting bags and various tips
Tips for Success:
Decorate all of the individual pieces before you mount the house!
We learned this tip after years of frustration! It is so much easier to decorate and then put your house together! That way the items that you are "gluing" on will stick and not slide down while the frosting is drying and you can frost onto a flat surface instead of trying to frost strange corners and angles.
It will give you a lot less of a headache! And make decorating easier and more fun!
Use Royal Icing for "glue" instead of regular frosting!
Royal icing drys faster and is harder than normal frosting.
To frost "snow" onto your house just add a tablespoon of corn starch to your buttercream frosting. It will help it stiffen up and stay firm after your house is done!
Be careful not to overload your roof with candy or it will collapse. Better to load up the sides, then the top!
Use paper/plastic cups to prop up the sides of your house while the glue sets.
Experiment with kit brands or make your own.
Some kits are just not as sturdy. We bought our kits at IKEA or a couple years and we would often find the pieces broken when we opened the kit! And broken gingerbread house pieces are really hard to repair (tip: use melted chocolate).
I prefer a good store bought kit. Homemade certainly has a better flavor, but it is hard to get all of the sides to be exactly the same when making your own. You'll often find that one side is just slightly taller or wider, making your house wompy.
The advantages of homemade, is that you can make a slightly sturdier cookie. Sometimes store bought kits have pretty flimsy pieces.
Royal Icing Recipe:
2 cups Powdered Sugar (sifted)
1 1/2 tablespoons Meringue Powder
3-4 tablespoons of room temperature Water
Mix on high in an electric stand mixer until smooth. I always add the water a little at a time. You want a very thick royal icing, not a thin one like that which is used for flooding cookies. You want something sturdy to hold your house together.
Buttercream frosting Recipe:
1 cup Room Temperature Butter
3-4 cups Powdered Sugar
1 tablespoon Corn Starch
Blend ingredients on high until smooth. Spoon into frosting bags or put out a big bowl with knives.
To Mount your House:
Starting with the base of your house spread your royal icing with a knife or frosting bag onto the lower edges of the end house pieces (the tall triangles) that will connect with the sides of the houses. Spread the frosting onto the edges of the house sides as well and connect them to the end. Hold them in place to allow them to dry.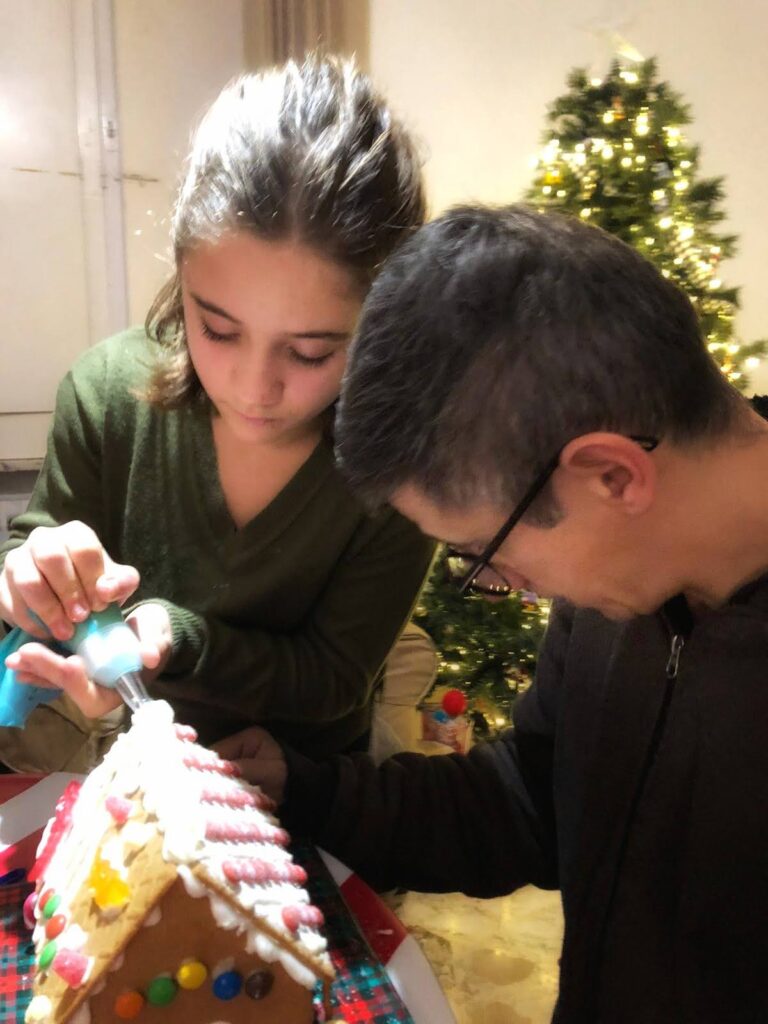 Do the same for the other end of the house. Place cups at the ends to hold the house together. Allow the frosting to set.
When your house seems firm, add your roof pieces, one at a time coating each edge with royal icing as glue to hold the two pieces together. Hold the roof in place until it sets slightly or prop a cup underneath the rim in order to hold it in place until the frosting sets.
Display your house in a cool dry room. Next to the fireplace might not be the best location!
That's it! Have fun and get creative! Don't worry about your house being perfect, especially if you are making it with children. Just enjoy the process and decorate with as much candy as possible! LOL
We had a lot of fun celebrating our girl in spite of covid! I hope that you all find ways to celebrate this holiday season in spite of the difficult circumstances around us!
Blessings to all and happy gingerbread house making!