Glow Party: Decorations & Food
A glow party is a great theme for older kids and teenagers. It was the perfect theme for a sweet sixteen birthday!
To set up the food tables…
We set up three tables. One for the food. One for drinks. And one for dessert.
The food table (pictured above) supplies were from: Curtain from SHEIN, Balloons from Amazon, neon tablecloth, plates, napkins and post its from local stores.
The drink tables were set up in a different corner. I bought white paper cups from Amazon and Fluorescent pens for each guest to write their name on their cup. The straws, tablecloths, post its and drink were from local stores. The fluorescent balloons were from Amazon.
The dessert supplies: Giant 16 balloons from local stores, backdrop made from neon poster board cut into 4 rectangles and taped on the wall to create a colourful backdrop. The GLOW letters were also from a local store, but I saw them on Amazon as well. Cupcake stands from local store, cake stand from IKEA. Glow in the dark candles from Amazon. White tins were from IKEA and other local stores.
The dessert table was my favorite!
I love how the GLOW letters gave a soft light to the table. We moved a black light closer towards the end to light up the cupcake toppers and cake, but I didn't get a picture of the table then.
Here are a few close up shots of the sweets from the dessert table…
My daughter is obsessed with Rice Krispie treats! So I made a Rice Krispie treat layered cake for her this year. The cake layers were pink and purple with a neon pink white chocolate drip and sprinkles on top.
I set out several tins with different colourful candies that my daughter loves like marshmallows, lollipops, skittles and gummy candies.
These Neon pink and black cookies were a hit! They disappeared in two seconds.
The glow in the dark cake was a dummy cake made with black foam paper and glow in the dark paint.
The cupcakes were chocolate and vanilla cupcakes in white paper tins that lit up beautifully with the black light. And I made the toppers with post its!
If you want an inexpensive amazing solution for your glow in the dark party here it is: POST ITS!
I know crazy right?!! But they light up so beautifully with black light, are inexpensive and easy to use. I made a sign with them, toppers for the cupcakes and we used them to decorate the walls and tables and to add a little neon color around the room!
Cupcake Toppers:
Buy the post it strips. Fold in half around a toothpick. Cut out a triangle from the end. That's it! You have an adorable glow in the dark topper for your neon party.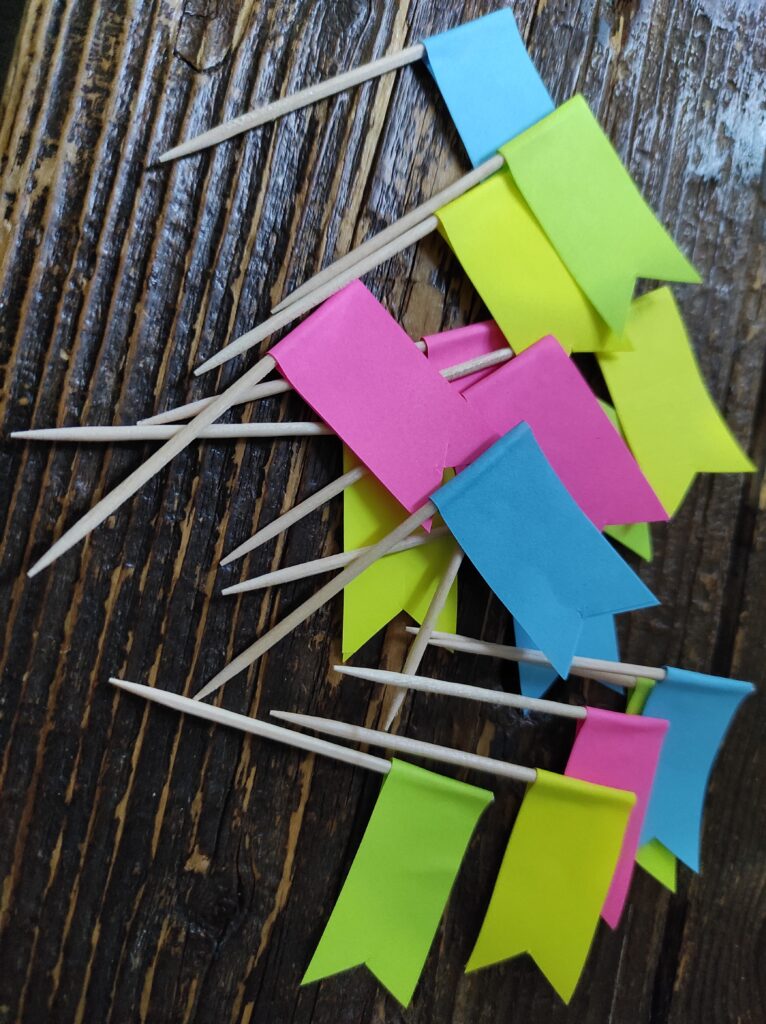 I used the same post its to create a "Let's Glow!" sign for the backdrop.
Just look at the picture to see how beautifully the light up with the backlights!
Have fun creating an awesome space for your Glow party with these easy suggestions!
Hope your party is fun and bright!